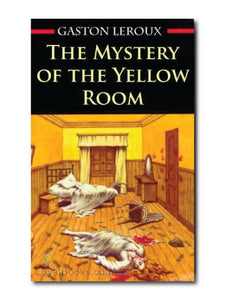 THE MYSTERY OF THE YELLOW ROOM, GASTON LEROUX
Regular price
Tk 200.00
Tk 0.00
Unit price
per
The young lady had just retired to her room when sounds of a struggle ensue, and cries of "Murder!" and revolver shots ring out. When her locked door is finally broken down by her father and a servant, they find the woman on the floor, badly hurt and bleeding. No one else is in the room. There is no other exit except through a barred window. How did the attacker escape?
First published in 1907, this intriguing and baffling tale is a classic of early 20th-century detective fiction. At the heart of the novel is a perplexing mystery: How could a crime take place in a locked room which shows no sign of being entered? Nearly a century after its initial publication, Leroux's landmark tale of foul play, deception, and unbridled ambition remains a blueprint for the detective novel genre. Written by the immortal author of The Phantom of the Opera, this atmospheric thriller is still a favorite of whodunit fans everywhere.
"The finest locked room tale ever written." — John Dickson Carr, author of The Hollow Man.
---
Share this Product
---